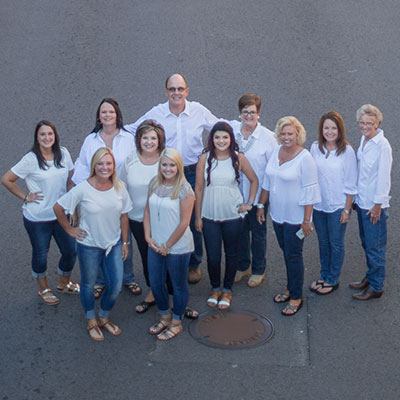 We recognize that all of our patients are unique and deserve to receive orthodontic care that reflects their individual needs. Our experienced and talented team is committed to working with you and your family to create a comfortable, stress-free, and rewarding orthodontic experience every time you visit our practice. We are pleased to welcome you and your family, and we look forward to working with you.

Clerical Team
Holley
Scheduling Coordinator, RDA
I love greeting patients and their families as they arrive. It's fun to hear what's been happening in their lives and see the progress they're making on their new smile. I also love meeting new people and welcoming them to our practice. I check patients in and out, answer our phones, and answer patient questions, too. I also schedule appointments, finding times that work with patients' and parents' busy lives.
I love quality time with my husband, Chris, and two daughters, Ashtyn and Kori. Ashtyn is married to Riley and they have a new baby boy, Tucker (my first grandchild ! ). Kori is a high school senior who enjoys advance choir. We enjoy spending our weekends camping and being with friends.
Gina
Financial Coordinator, RDA
I love watching the growth and smile of our patient as they move through treatment. Because orthodontic care takes place over several years, and we see patients about once a month, we really get to know each person. I look forward to their visits as a time to hear their latest news and see the progression of their smile. I handle our practice's accounts receivable and assist patients with their insurance. I also oversee our marketing program.
My husband Ricky and I have been married for over 30 years. We have two beautiful daughters. Erica is married to Kody; and Lauryn attends UT. We also have two Yorkies, Max and Tucker. Our family loves to vacation at the beach.
Cindy
Accounts Payable, RDA
I love seeing all the beautiful smiles as they change each time they visit our office. It's great to watch the young patients grow up and gain confidence with their new smiles. I take care of the accounts payables as well as make appointment and greet patients.
I am married to my wonderful husband Randall and we have two children, Randall and Samantha (Sam). I enjoy exercise, anything outdoors, riding motorcycles and spending time with my family and friends.
Peggy
Treatment Coordinator, RDA
I love meeting new patients and their families. I enjoy explaining everything that our office can do to give them the smile they've always wanted. I'm with patients throughout their initial visit. After they see Dr. Gibson, we talk about his proposed care plan. I explain the steps, how they work, and why they're needed. It's important a patient is able to make an educated decision about their smile.
My husband Mike and I have been married for over 25 years. We have a little Havanese, Jackson. I enjoy sports, reading, Pinterest, and shopping.
Clinical Team

Katherine
Clinical Assistant, Patient Observation Coordinator
I love being part of changing people's lives. The confidence someone has, when they know they have a beautiful smile, is amazing. I am happy to spend my days helping people I care about get the healthy, becoming smile they deserve. I support Dr. Gibson as he cares for patients, assisting with adjustments and bonding. I also educate patients and parents about home care, and see patients on follow up visits until they're ready to start treatment.
My husband Shane and I have been married for 13 years. We have three amazing dogs: Heidi, Skinny and Henry. We love being at the lake, camping, kayaking, skiing, traveling, and going to Pro Football games. Go Packers!
Mandy
Orthodontic Assistant, Clinical Supervisor, RDA
I love meeting new people and developing friendships with them. It's a joy to watch their self-confidence grow during treatment. This is not only braces to people: it's changing their lives. In addition to supervising our daily clinical procedures, and making sure everything runs smoothly, I work directly with patients. I take X-rays and impressions for diagnostics. I bond and deband brackets, answer questions, and offer home care education.
My husband, Jake, is a conductor for Norfolk-Southern Railroad. We have a daughter, Jade, who's a senior and plays softball. We also have two dogs, Daisey and Trixie. Our family loves going to church and are so blessed.
Ashley
Orthodontic Assistant, CDA, RDA
I enjoy working with patients of all ages and building relationships with each of them. It's fascinating to watch the changes in their smile, from start to finish, along with the change in their self-esteem. Everyone becomes more social and confident, and they smile without worrying about how their teeth look. I provide assistance to Dr. Gibson during patient visits. I make sure he has everything needed and support our patient at the same time.
When I'm not working, I enjoy spending time with my husband, Chad, my daughter, Isabella, and my son, Carter. We also have a Poodle, Macey and a German Shepard, Tucker. We love going to Dollywood, spending time at church events, and visiting with friends.
Amber
Clinical Assistant, RDA
I love getting to know our patients and seeing how their smile, and personality, change at every appointment. Each person becomes more comfortable with their appearance and their personalities blossom. The best day is when we remove their braces and the person sees their incredible new smile for the first time! I provide patient assistance during visits, helping with bonding, adjustments, and wire changes. I also educate patients and parents about home care and answer their questions. I enjoy dirt track racing, riding 4-wheelers and rzrs, camping and anything outdoors.
Barbara
Lab and Records Technician, RDA
It's amazing to watch the confidence each of our patients gains as they get their new smile. Every patient is excited to start treatment, and that excitement grows as they see their smile start to change. The day we remove their braces and they see their finished smile is the best day: they can't stop looking in the mirror and laughing with happiness. We're all happy for them. In our office, I take and process records and retainers.
My husband Allan and I have been married for more than 25 years. I enjoy church activities and friends, cooking and spending time with family, being outdoors and helping others.